LEARN@EcoVillage Experiential Learning Programs help people  to:
gain a new vision and hope for how humans can live together in partnership with the planet
understand the link between social justice and ecological sustainability
experience a sense of belonging to the land and to a learning community
develop specific skills and knowledge to apply in their own lives and work
be motivated to take action when they get home
We currently offer programs to the following audiences:
Past Programs Include:
~~~~~~~~~~~~~~~~~~~~~~~~~~~~~~~~~~~~~~~~~
MORE DETAILS:
Eco-Gap – Click HERE
Visiting College/University Classes:
Every year we host over 200 students and faculty for anywhere from two-hour tours (dips), to half or full-day workshops ("dunks") to five-day immersion experiences ("dives"). We offer hands on experiences on a wide variety of sustainability topics including:
Green Building
Biochar
Permaculture
Food and Farming
Governance
Human-Environment relations
Hands-On Nature Connection
Sustainable Communities
Eco-Psychology
Communication
Composting
Our programs continue to gain momentum locally and internationally with groups visiting us from as close as Ithaca College and Cornell University to SUNY Potsdam, Montclair State University and as far away as Nihon University in Japan.
Students come from classes and majors as diverse as Social Work, Architectural Design, Horticulture, Landscape Architecture, Human Ecology, Environmental Studies and Sustainable Communities
Take a look at the options below and decide which experience is right for your students. Curriculum can be tailored to each group.
Dip: Overview Tour (1.5 – 2 hours)
This brief introduction includes a walk through 1 or 2 neighborhoods, visiting inside a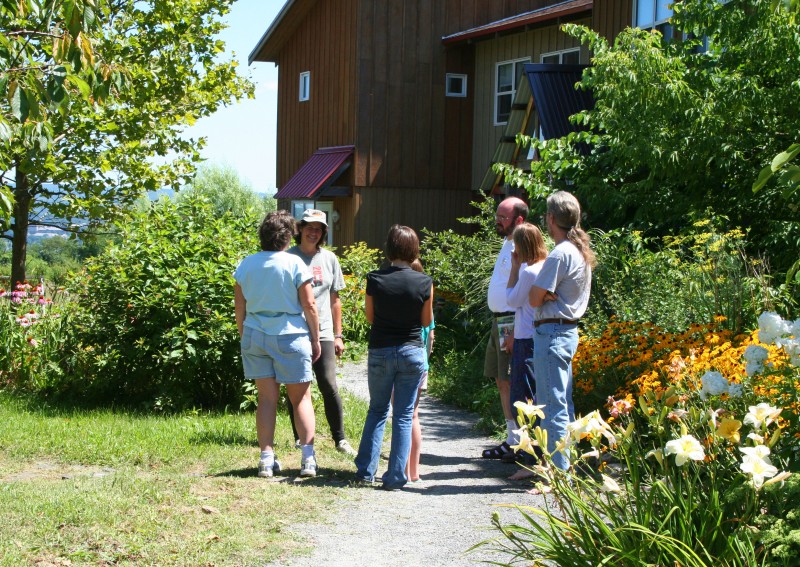 home, learning a bit about cohousing, passive solar building design and community gardens. You'll also meet some residents who are also trained volunteer tour guides.
Fees: Group rates for 5 to 25 visitors: $15/person for students, $20/person for professionals for 1.5 hours with a $50 deposit in advance.
Dunk: In-depth Custom Tour (half-day & full day options)
This is a "See and Do" experience with a focus on specific topics, and optional hands-on activities. Content may include green building, energy, farming, social justice and sustainability, community development, permaculture or healthy communication. Catered lunch or dinner of local foods is available for groups of 10 or larger.
Sample Half Day Tour – Farming and Food Focus
1 – 2:30pm  Overview of EcoVillage, Visit 2 different neighborhoods and a Home.
2:30 – 4:30pm  1 mile walking tour of Community Gardens, Chickens, Root Cellar, Kitchen facilities. Snack Break at Common House. Farm visit with optional hands-on garden or farm activity (in season).
4:30 – 5:00pm  Q&A, Reflections and Appreciation circle back at Common House

 Sample Full Day Tour – Green Building Focus
10 – 12:00pm  Overview of EcoVillage, discussion about green building strategies and metrics of village energy use. Visit FROG district heating center and 50 KW solar array. Indoor home tour to observe passive solar features.
12:00 – 1:30pm  Lunch in Common House. Presentation on straw bale construction.
1:30 – 3:30pm  Intro to Passive House design with tour of TREE neighborhood
3:30 – 5:00pm 1 mile walking tour including farms, and land use planning features. followed by Reflections and Appreciation circle back at Common House

Fees: $30/person for half day, $60/person for full day. Meals additional. Minimum group size is five people.  Please schedule 4 weeks in advance. 30% deposit.
"My visit far exceeded my hopes and expectations. This whole semester at college, I've been exploring alternative styles of living, and EcoVillage has by far been the most appealing option. The strength and intentionality of this community is beyond what I could ever imagine." Student SUNY Potsdam
Dive: In-depth Experience (2 day to 5 day options)
Dives include at least one overnight, and allow for an powerful immersion experience. Price varies according to amount of time. Accomodations range from inexpensive camping options to home-stays to full price B&Bs on-site. Program options include workshops, service learning projects, interaction with community members, preparing local food meals, and more.
Sample Immersion Experience
Fees: Start at $150/person for 2 day immersion program. Meals and lodging additional. Minimum group size is ten people. Please schedule 8 weeks in advance. 30% deposit.
"The [5 day] program was an excellent balance between the physical environmental aspects and the social and community dynamics. It worked very well… Can't wait to return." – Heather Sullivan-Catlin, Professor, SUNY Potsdam, Sustainable Communities class trip
Ask us about AASHE STARS Credits
In partnership with the Tompkins County planning department, this three-year EPA-funded project, community that works project, documented and shared the best practices learned over twenty years of developing EcoVillage at Ithaca. It demonstrates how we can form the built environment around the human scale, walking pace and social needs of people.  And how green building and mixed land use are technologically and economically feasible.
Targeting builders, developers and municipal officials, we helped to apply these practices to new residential development in a more mainstream setting. The Aurora Pocket Neighborhood,  the Amabel community, in Ithaca, NY, created a dense neighborhood that enhances residents' quality of life while using fewer resources.
City planners involved in the EPA project also gained our assistance in writing Pedestrian Neighborhood Zoning code recommendations, along with a cottage ordinance which applies the same principles to smaller infill sites.
EPA Climate Showcase Community That Works