There's so much to see and learn about at EcoVillage Ithaca. Whether you're interested in green building, alternative energy, food and farming, land conservation, or the stories of people and our life together, we're happy to show you around.
Overview Tour (1.5 – 2 hours)
This brief introduction includes a walk through 1 or 2 neighborhoods, visiting inside a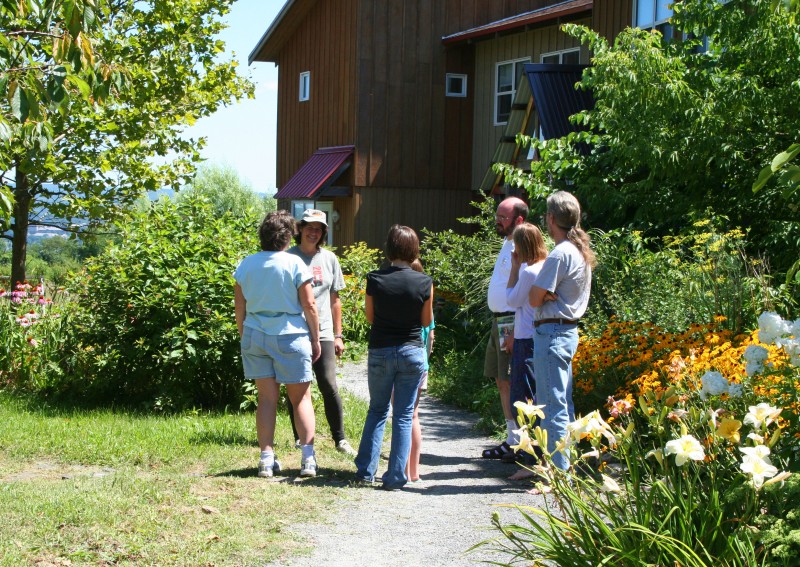 home, learning a bit about cohousing, passive solar building design, community gardens and enjoying our beautiful views. You'll also meet our volunteer tour guides. There are three options to take an overview tour:
Monthly Public Tour: Occurs on the last Saturday of each month at 3:00 pm. It meets at the FROG Common House. No need to make reservations in advance. Just show up! Fee: free
Scheduled Individual Tour: Two weeks advance notice helps us schedule your tour guide and home visit. In exchange for our time, there is a fee of $35 for individuals, $50 for households of up to 4 people.
Scheduled Group Tour: Group rates for 5 to 25 visitors: $15/person for students, $20/person for professionals for 1.5 hours with a $50 deposit in advance.
In-depth Custom Tour (half-day & full day options)
Tailored to your particular interests, and ideal for college classes, community groups, and professional associations. This is a "See and Do" experience with a focus on specific topics, and optional hands-on activities. Content may include green building, energy, farming, social justice and sustainability, community development, permaculture or healthy communication. Catered lunch or dinner of local foods is available for groups of 10 or larger.
Sample Half Day Tour – Farming and Food Focus
1 – 2:30pm Overview of EcoVillage, Visit 2 different neighborhoods and a Home.
2:30 – 4:30pm 1 mile walking tour of Community Gardens, Chickens, Root Cellar, Kitchen facilities. Snack Break at Common House. Farm visit with optional hands-on garden or farm activity (in season).
4:30 – 5:00pm Q&A, Reflections and Appreciation circle back at Common House

Sample Full Day Tour – Green Building Focus
10 – 12:00pm Overview of EcoVillage, discussion about green building strategies and metrics of village energy use. Visit FROG district heating center and 50 KW solar array. Indoor home tour to observe passive solar features.
12:00 – 1:30pm Lunch in Common House. Presentation on straw bale construction.
1:30 – 3:30pm Intro to Passive House design with tour of TREE neighborhood
3:30 – 5:00pm 1 mile walking tour including farms, and land use planning features. followed by Reflections and Appreciation circle back at Common House

Fees: $30/person for half day, $60/person for full day. Meals additional. Minimum group size is five people. Please schedule 4 weeks in advance. 30% deposit.
"You gave us a wonderful tour and we all are very grateful. I appreciate that you put aside so much time for us . . . You are an inspiration to remain visionary because you have made so many visions tangible."
– Christianne White, Summer Multicultural Institute