Unique multiple co-housing neighborhoods
Cohousing, originally from Denmark, is an increasingly popular form of community-oriented housing which balances the privacy of individual homes with the strong neighborhood ties that develop from shared interests. In cohousing communities, cars are parked on the periphery of the neighborhood, and beautiful paths wind through the central gardens between homes. A Common House provides a place to gather for optional shared dinners, parties, meetings, laundry, yoga classes, kids
playrooms, and more. In our community, we enjoy home-cooked meals in our Common Houses three or four times a week. Food is often sourced from our three on-site organic farms, and stored in our village root cellar. Community gardens are enjoyed by anyone who wants to "grow their own."
Village culture
The evolving village culture includes plenty of neighborly support for families in need,
various annual celebrations to mark the seasons, and frequent ad hoc parties, music jams, and talent shows. We spend lots of time outdoors, gardening, playing, running, hiking, biking and stopping to chat along the paths. Many of us are actively engaged in the wider community of Ithaca and Tompkins County, which is rich with sustainability, social justice and civic engagement initiatives. We're finding that living more cooperatively requires a lot of learning and work, but is richly rewarding and well worth the effort.
Consensus decision-making and Community work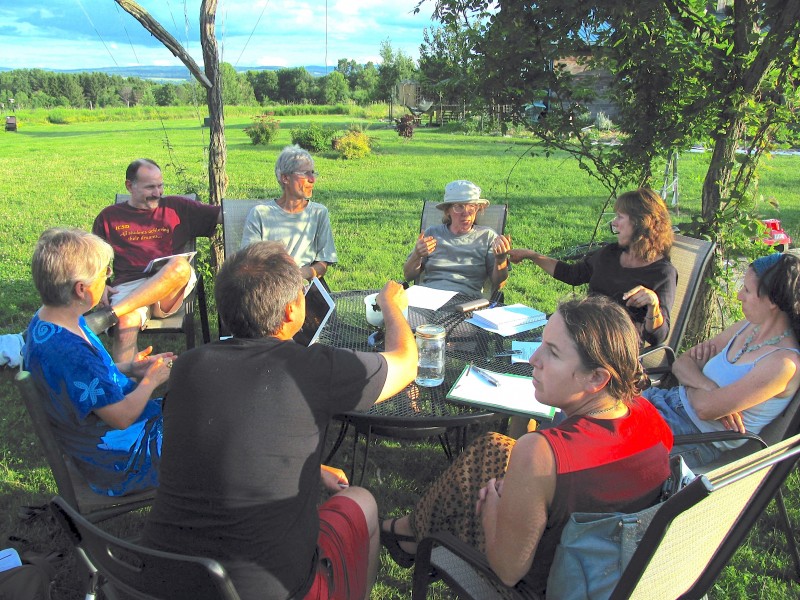 Village residents volunteer about 2-3 hours per week to keep things running smoothly for everyone. As is typical in cohousing, we make community decisions through a consensus process in each neighborhood, and a Village Association representing all three. Community work is accomplished through a voluntary Work Team system, where residents apply themselves to whichever task areas they have most enthusiasm for. There are teams for Cooking, Dishes, Outdoors, Maintenance, Common House, Finance, Process/Steering, Community Life, and more.
Residents
When TREE is completed by the Fall of 2014, we'll be home to about 160 adults and 80 children in the village, for a total population of 240. We range in age from babies to octogenarians. We have families, singles and couples. About a fifth of our residents are retired, and about a fifth are stay at home parents. We have a wide range of livelihoods, and diverse spiritual backgrounds. There are residents whose families came from India, Brazil, Puerto Rico, Japan, Italy, Russia, China and the Phillipines, among other places. While there is some income diversity, most people are middle class. Many of us enjoy life-long friendships with our neighbors, and feel very blessed to live in a community of rich relationships.